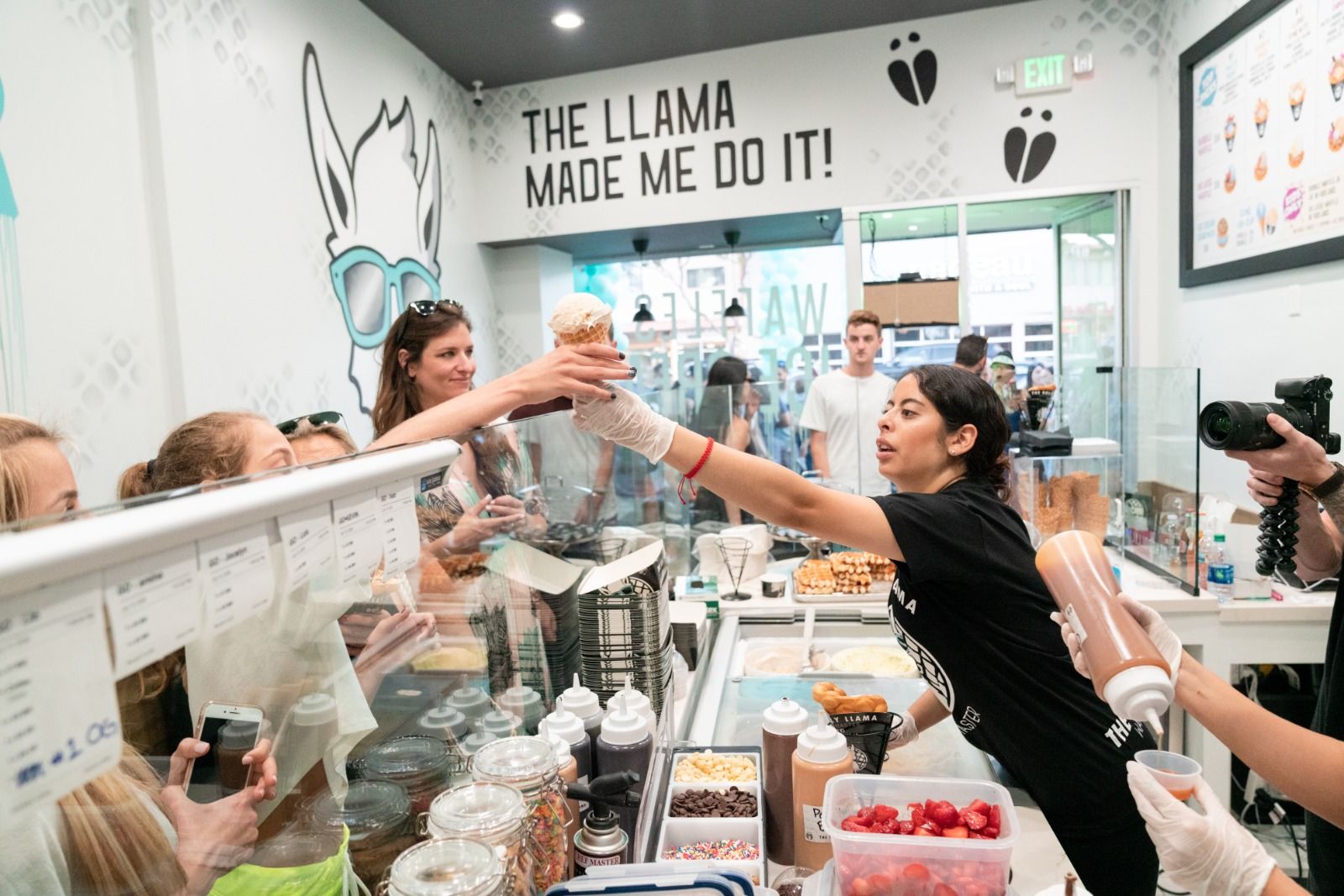 The LA-based Waffle & Artisanal Ice Cream Concept Bolsters National Presence with Upcoming Debut in New York City and Continues Expansion in Texas with a location in McAllen and 2 openings in Houston
Los Angeles, CA  (Restaurant News Release)  The Dolly Llama, the waffle and artisanal ice cream destination based out of Los Angeles, is planning substantial growth in Q1-2023 across the country with its first New York City outpost and 3 locations in Texas all within the next 2 months. The brand, which first began franchising in 2020 to expand the unique concept to major U.S. media markets, has since opened 4 new locations [Dallas, Jacksonville, Las Vegas, Orlando] and is fueling major growth in 2023.
The Dolly Llama will open in McAllen, Texas first with its opening on Saturday, March 4th at 7600 N 10th St #800L within the Trenton Crossing Shopping Center. New York City's East Village location will open next on Saturday, March 11th at 137 E. 1st Ave, and the two Houston stores are anticipated to open by late March in Shenandoah (8920 Metropark #800) and Pearland (3589 Business Center Dr #110). The concept has plans to continue its heavy push to new markets with an entry into Utah and South and North Carolina and more locations planned for California, Nevada, Texas and Florida!
"We're beyond excited launch in New York and bring The Dolly Llama to more cities in Texas!" said co-founder Eric Shomof. "2022 was a great year for us as we built a foundation of opening franchises in new markets, but 2023 is shaping up to bring even more growth for The Dolly Llama brand. The popularity of the concept has exceeded our expectations and we couldn't be more thrilled to have over 50 signed deals across the country. We're thankful to our new and loyal guests who continue to support each opening."
The Dolly Llama was designed to be a modern dessert shop where all guests can enjoy hand-crafted waffles and ice cream in a cool, hip and fun environment. The concept's success can be, in part, attributed to its innovative and artisanal menu, but also the unique experience of visiting The Dolly Llama locations is what makes the shops a beloved destination for locals and tourists alike. The seven open locations across Los Angeles, Dallas, Jacksonville (Ponte Vedra Beach), Las Vegas and Orlando (Winter Garden) share an unparalleled aesthetic flair and insta-worthy design featuring eye-catching signage, our iconic llama and "wanted" llama prints along the walls, which the franchised locations will also mirror.
The brand prides itself on offering authentic European flavors and techniques, such as Belgian waffles using traditional methods, and the Hong Kong Bubble Waffle prepared with a special batter that produces a unique crispy and custard-like texture. The two unique waffle styles — OG Liege Waffle, Bubble Waffle — are the base of the interactive menu of 'Top Picks' waffle and ice cream desserts, ice cream waffle sandwiches, and a 'Build Your Own' menu, where customers are encouraged to "go nuts" with unlimited toppings resulting in endless flavor possibilities and combinations. Signature Shakes are another over-the-top brand staple.
The Dolly Llama currently operates three locations in greater Los Angeles, one location in Dallas, one location in Jacksonville (Ponte Vedra Beach), one location in Las Vegas and one location in Orlando (Winter Garden). Guests can download 'The Dolly Llama' app in the app or play store and join the brands loyalty program to gather points during every visit and redeem for discounts on next orders. Guests can also order right through the app!
For more information about franchising with The Dolly Llama visit https://thedollyllamaus.com/franchise/. To stay up to date with The Dolly Llama news and announcements follow the brand on Instagram @thedollyllama_us and Facebook @TheDollyLlamaUS.
About The Dolly Llama

The Dolly Llama was founded by real estate leader, Eric Shomof and Samuel Baroux, an acclaimed European entrepreneur and restaurateur who wanted to bring his passion for food and dessert to the states. The name was inspired by a real llama Baroux encountered on a farm in the South of France, and pays homage to his home country. Since its inception in 2017, The Dolly Llama has dominated LA's waffle scene with its own unique take on the Bubble Waffle, Hong Kong's #1 street food in addition to Dolly Llama Shakes, and OG Waffles, and aims to prove that all waffles don't need syrup. In 2020, The Dolly Llama announced that it was taking the unique and exciting brand nationwide by way of franchising and has currently sold 45 units in major media markets across the country. The Dolly Llama currently operates locations in Downtown Los Angeles (611 S. Spring St), Koreatown (273 S. Western Ave), Sherman Oaks (14545 Ventura Blvd), Dallas (2817 Howell St Suite 210), Ponte Vedra Beach (830 A1A N #16), Las Vegas (4632 S Maryland Pkwy #12) and Winter Garden (3279 Daniels Rd, Suite 106). For more information visit https://www.thedollyllamaus.com/ and for franchising information and opportunities, visit https://thedollyllamaus.com/franchise/.
Media Contact:
Hannah Koury
Ajenda Public Relations
hannah@ajendapr.com
650-922-4936